orderandchaos.volgaming.com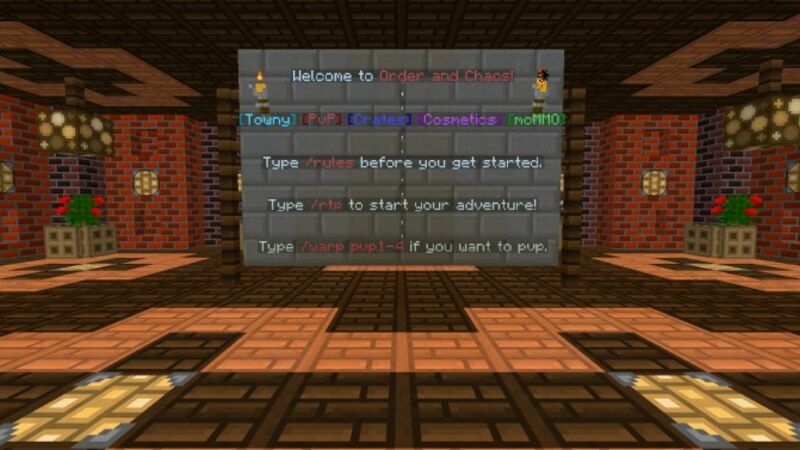 The most important part is towny, because that is what our server is based around, including pvp and war. Towny lets you protect your land and build up a base with friends, except for war time. We're planning to have war on the first Saturday of every month. During war, everything is up for grabs until it ends, and to end towny, towns must eliminate eachother from war.
The other most important part... is we try to be as player driven as possible and listen to the community. You tell us something you do or don't like, or give us some ideas, and we'll do our best to work with it (there are some things that obviously won't change). We also try to weed out the sh*ty players. Plenty of servers are full of these people, and we won't stand for it on ours. Yes we still allow the trolls and people who like to just screw around with other players. It's the players that are just there to emotionally hurt players, or cause drama just because they can that we don't tolerate. Act like a child, be treated like a child, and get to go to permanent timeout, called a ban...
One thing I won't ever do to my server, is have a pay-to-win based donation store. We do not have anything that gives players too much of an advantage over others in our donation store. Our donation store is mostly made up of cosmetics and pets with a few commands and keys for our voting and crate system. To make up for some of this, we have what we call donation goal rewards. When we reach a certain goal, we add rewards that effect every player. This can include things like more enderchest rows, extra homes, EXP events, and all sorts of stuff, for EVERYONE.
Our voting system is pretty cool too. When you vote, you get a crate key, you can them use this crate key on the key crate. The key crate gives you a variety of other keys that can be used on themed crates, like enchanted books, spawn eggs, diamonds, etc. So it's a pretty fun thing to gamble with.
We also have the plugins clearlagg & mergedmob to help reduce as much lag as possible from the server. The plugin mergedmob also goes fantastic with the silk spawners plugin, allowing players to silk touch spawners and setup epic mob grinders. Along with making epic mob grinders, you can also bottle up player experience to store away, or trade between players.
As for trading, you can convert your money into bank notes, which is useful for trading, or simply to store away. If you don't want to trade directly with players, you can buy/sell things from the admin shop. If what you're looking for isn't in the admin shop, we have a global trading system. This allows players to put something up for sale in the global shop, and anyone can buy the items from other players listings at any time. It's pretty awesome.
I'll admit it's complicated and confusing, but with our website and staff, we try our best to explain and teach players how to play. The staff are well put together. The server is run by my boyfriend and me, and we choose our staff carefully. Everyone is allowed to apply for staff position, but we get to know everyone before we accept any new staff. Almost all of our current staff we've known for about 1-5 years to start with.
There are no reviews for this server yet, you can be the first!