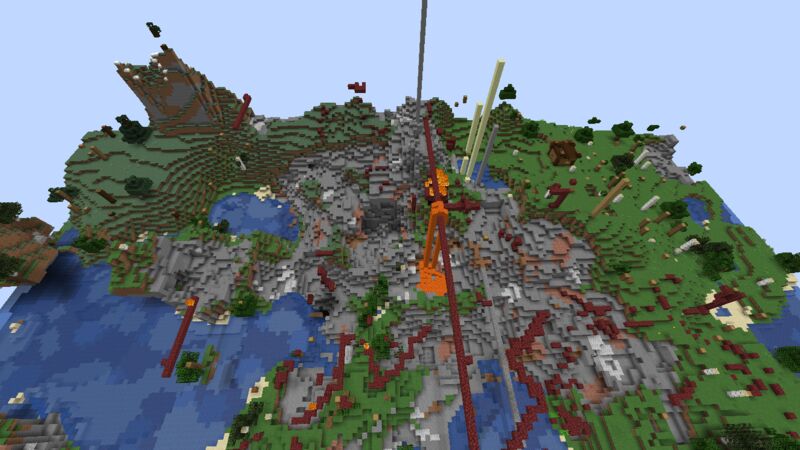 (1.14.3)
This is a Relatively new Anarchy server (Which has been inspired by 2b2t) but ultimately strays away from some of the big ones giving you a new experience, with plugins such as, Player Heads, /Hat, Colored Chat, Sitting on stairs, and MUCH MUCH MORE!  
 Server is up 24/7 with 4 restarts that take 1 min at max to complete.
  Why I made the server
The server was made for people to have a brand new anarchy experience with a clean server that they can twist and contort anyway they want... for others to find Bases or Traces that You have created, for them to find in the future! Kinda Like a backwards 2b2t, with them you can find the magic of other peoples Bases and Traces but on Mcrad you create the magic for others
So will you have an impact on the server or will you fade away like most in this vast anarchy land?
"Hack, Cheat, Lie, Steal, Its All In The Deal"
-MisterSkull663
  Plugins McRad Uses
I tried to keep the server as vanilla as possible with some fun plugins that the players can use that don't break the game, to name a few if you kill a player then they will Drop Their Head so you can make a trophy room if you would like (Also works with mobs but heads are rare), Nicknames are enables so name yourself anything you want, you can Sit On A Stair if you left click with an open hand, and Colored Chat is enabled if you would like to change your chat color, And Silk Spawners that you can collect. Their is more but these are the main ones.
  Server Info,
McRad was created on Friday, May 31, 2019 and was open to the public on Sunday, June 2, 2019
There are no reviews for this server yet, you can be the first!