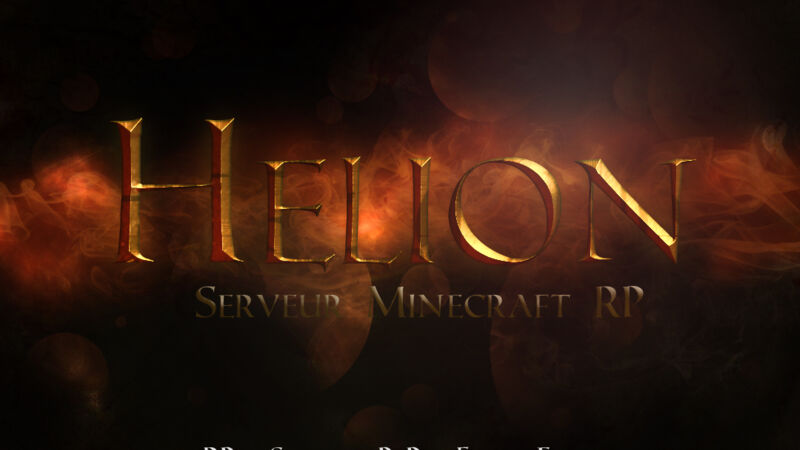 Je sais pas vous, mais moi au bout d'un moment, j'en avais marre de tomber que sur des serveurs remplis de kikou, avec des modo et des admin de 12 ans. Des serveurs qui reset la map sans raison après des mois de boulot... J'ai donc décidé de créer mon idéal : HELION.
Helion c'est quoi ?
C'est un serveur à votre écoute. Votre serveur. N'importe quel joueur est tout aussi important qu'un membre du staff. Vous avez votre mot à dire, et ça, c'est SUPER IMPORTANT. Appellez ça un serveur démocratique si vous voulez.
Nous avons décidé de mettre en place cet audacieux mélange de RP PvP Survie FreeBuild Events Fun... le tout sur la même map ! C'est donc un petit serveur communautaire avec 23 slots, ouvert 24h/24 et 7j/7 qui vous propose une TRES large expérience de jeu !
Vous voulez ...
Rejoindre les Elfes dans leur combat contre les Nains ?
Rejoindre la guilde des redstonneurs / des architects / des écrivains ?
Construire votre maison à l'écart (ou pas) de l'univers RP, faire vos petites usines, farmer les emeraudes et gagner des $ pour devenir Noble ?
Construir un village, une ville dans le RP ?
Faire le mercenaire et assassiner sans pitié vos contrats ?
Faire ce que vous voulez (dans le respect des règles) avec vos amis ?
C'est POSSIBLE !
Le serveur est encore en [Beta], c'est à dire que tout est fonctionnel mais que la Map du RP n'est pas terminée. La majorité des membres travaillent en ce moment sur la construction des capitales de races. Vous pouvez les rejoindre et participer à la création de ce nouveau monde !
Rendez vous sur le Forum pour faire votre candidature !!
There are no reviews for this server yet, you can be the first!