Back to List
SkyTopia | The MineLegacy SkyBlock Server [1.5.2]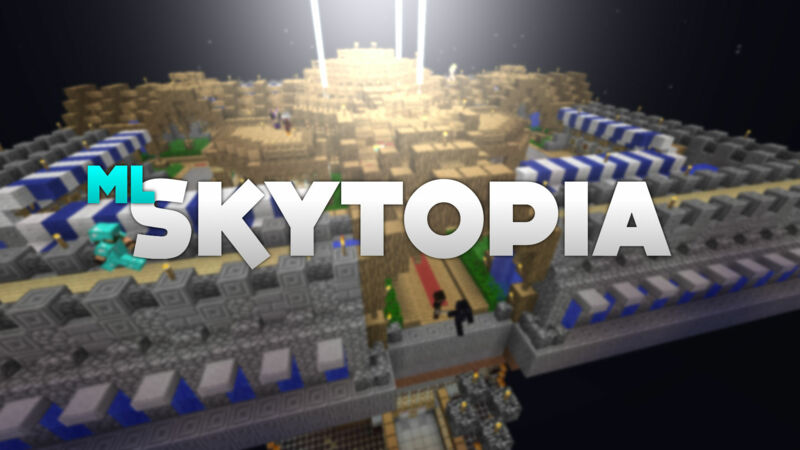 MineLegacy SkyTopia
SkyTopia is a MineLegacy server providing players with a place like no other to play SkyBlock with friends and others. Players can play here or any MineLegacy server safely and comfortably thanks to mature and respectful, rule enforcing staff! We offer 100+ slots with plenty of RAM and processing power, no lag! Don't just enjoy SkyBlock, but fight in continuous waves of mob hordes in the Mob Arena where you can also earn rewards to use on your island! PvP others in the PvP Arena for their loot, keep it clean! Level up your MCMMO skills for a clear advantage in farming and much more! The Spawn Island has much to offer including enchanting and a shop using our currency, Credits! Join in the fun now, and try it out for yourself! Lets see how much you can build!
SkyTopia Features
Auctioning system (bidding is allowed for all players, must be donor to start auctions)
Economy (shops, auctions, trade, lottery, and credits contribute to the SkyTopia economy)
Arenas (Mob Arena & PvP Arena... More types coming soon!)
Kits and ranks (Purchasable kits, ranks, and packages available on our website)
24/7 up-time
100+ slots
Updated (latest Minecraft build)
Modified soups (soups can be eaten instantly for full hunger satisfaction)
Lottery system (buy lottery tickets in game for a chance to win the credit jackpot)
Mob capturing (capture mobs by throwing eggs at them)
Island system (see commands in game "/island help")
Lockable chests (place a sign on your chest to prevent others from entering it)
MCMMO (level your skills! "/mcstats" also modified to prevent over powered players)
Custom donor perks and benefits (see www.MineLegacy.com/shop)
Rewards for voting! (vote on www.MineLegacy.com/vote for credit rewards)
Ultimate SkyBlock experience!
Become Part Of The MineLegacy Community
Join the MineLegacy community for news, updates, give aways, competitions, and much more! You can also find other MineLegacy servers on our website! Join the massive community at
www.MineLegacy.com
To support the legacy, join in the ever lasting, community made server!
There are no reviews for this server yet, you can be the first!