Back to List
-=[C4-Net FTB MineTechWorld Server]=- German-Serve
minetechworld.c4-network.de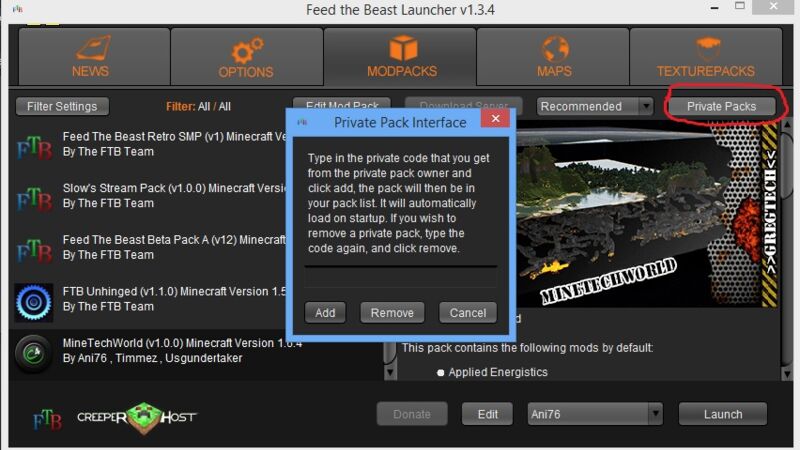 MineTechWorld ist nun unser offizielles FTB Mod Pack! Das individuell gestaltete Modpack ist vorallem darauf ausgerichtet, sogar den hardcore Minecraft Spieler für einige Monate zu beschäftigen. Dabei steht die Technik im Vordergrund, aber auch Thaumcraft findet sich mit eigenem End-Content. Stärkere Monster bringen einen gelegentlich zur Verzweiflung jedoch gibt es die Möglichkeit, sich mit diversen Waffen und Geschütztürmen dagegen zu wehren.
Als Grundlage des Modpacks wurde GregTech benutzt. Die Mods wurden in Schwierigkeit und Kosten angepasst und sollten nun alle zusammen eine ausgeglichene Spielerfahrung bringen.
Teamspeak3-Server zur besseren Kommunikation
Städte errichten in der Hauptwelt, Farmen in regelmäßig erneuerten Welten
Towny
Ausser am Spawn und in den Städte ist PVP möglich
Update : FTB Version 1.1.9 PW: Minetechworld
Mod-Liste =
Applied Energistics
BiblioCraft
BinnesMods
Buildcraft
CraftGuide
Chicken Chunks
CoFH core
Compact Solars
Compact Windmills
Computer Craft
Damage Indicators
DenPipes
Ender I/O
Ender Storage
Extra Utilities
Extra Cells
ExtraPeripherals
Factorization
Forestry
Gravi Suite
GregTech
IC2NuclearControl
IndustrialCraft 2
Inventory Tweaks
Iron Chests 5
Lycanite's Mobs
LogisticsPipes
Magic Bees
Minefactory Reloaded
Modular PowerSuits
Modular Force Field System
Natura
Not Enough Items
Numina
Open Blocks
Open Peripheral
Power CrystalsCore
Project Red
Rail Craft
Rei's Minimap
Rotary Craft
Secret Rooms
Steve's Carts 2
Thaumcraft 4
Thaumic Tinkerer
Thaumic Tinkerer KAMI
The Twilight Forest
Thermal Expansion 3
Tinkers Construct
Translocator
VoxelMap/Zan's Minimap
Wireless Redstone
Wir haben auch ein Ultimate-Server , falls euch dieser hier zu schwer ist. Für alle Infos geht auf den Link: http://www.c4-network.de
There are no reviews for this server yet, you can be the first!