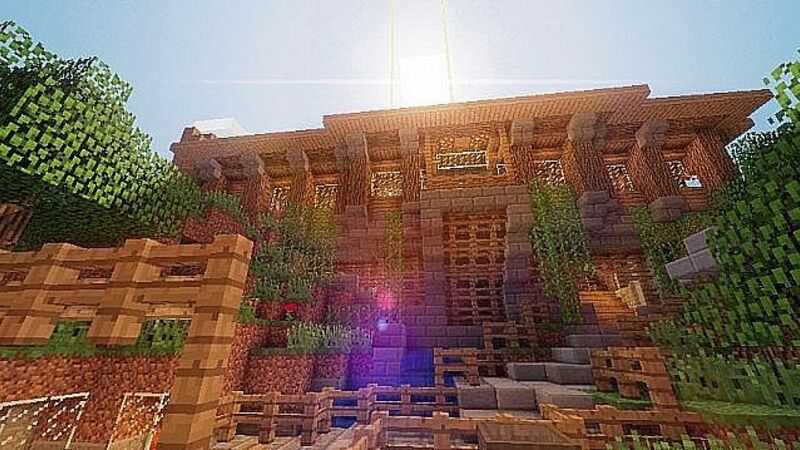 Thrive With Our Lands.
We're all about survival, and battle. Sun vs. moon. Light vs. darkness. Let
our server take your breath away. Be whatever you want, build an invincible
base. Conquer the lands, one faction at a time.
[SPAWN]
Our spawn is quite the spawn. We have it built right into a small moutain, and
surrounding it is all of our essential buildings. We've got a 3 story admin shop,
east and west side player shops, pvp tips, 3 dual-tower exits, player trading
facility, rails to cruise around from place to place, a pvp arena built
in a large underground cave, and a utility shack complete with enderchests,
enchanting tables, and more!
[RANKS]
We have about 9 different player obtainable ranks. 4 of these are accessible
for free!! All of the information that you need to know on each rank, is on the
server. Our ranks are, from start to finish; Adventurer, Warrior, Savage,
Supporter, Premium, Loyal, Mythical, Elite, and Chaos. Our ranks are not completely
over-powered, so that the natural balanece of the server is not destroyed.
FEU8AoUh8A8
[NEW SERVER]
We're a completely new server that just opened up! It would be so very nice of you
to support us by buying a donor rank, or at least join our server. As we collect
more donations, 100% of profits will be put towards the server. We will try to
avoid purchasing a faster connection unless we have a steady income of money.
There for, our server will not go down!!
[RULES]
Greifing is aloud! Our server is very fair. We are brutal on hacking. We want people to play our
server the way it is supposed to be played. Plugins to ensure no hacks are performed.
Scamming during trading is NOT ALOUD. Use the trading facility at spawn. Indeed if
you do find a hacker, and he/she is terminated, you will get a large reward!
To find the rest of the rules, go join the server!
There are no reviews for this server yet, you can be the first!