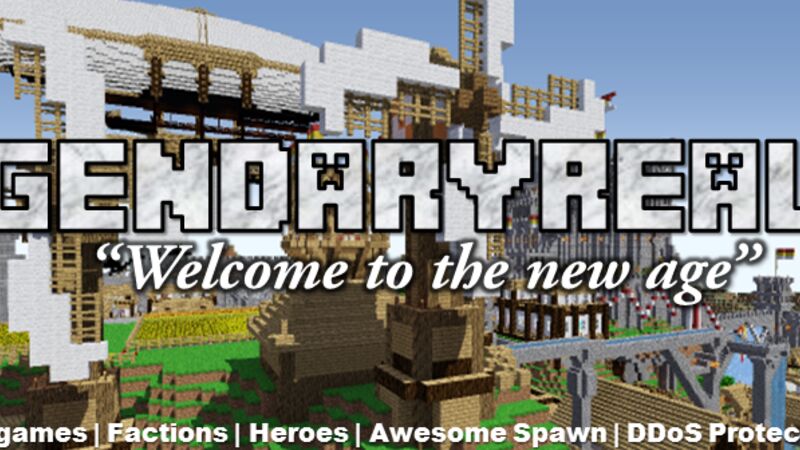 Join LegendaryRealms now! The Most Legendary Server on Minecraft!
Made by Minecraft Enthusiasts, Poweruas and Coen466, together forged a partnership in striving to make the best MC experience ever.
Our target was to make the server one in everything, it's a concentration of everything you love in all the other servers like Factions, SkyBlock, Minigames, Hungergames, and so much more. A place where you won't have to scrounge around and look for another server that has minigames and return to the survival server. That's what we aim to be, one in everything.
We also have great dedicated hardware to make sure that everyone is having fun, no matter how intense the battle may be, or how high the tower you're making, in the server, there's basically no definition of lag or slowdowns. It's a simply addictive experience.
The server has a wiki, to know everything from the basics to hardcore battle techniques, something no other servers have ever implemented yet.
The staff is also very responsible, very trustworthy, we don't turn our backs on you, we want to help you.
The features list:
Every feature is carefully planned and implemented.
All possible bugs are examined and fixed.
From the traditional survival, we added a very unique and unseen RPG system.
We have a vast spawn carefully crafted and detailed down to every single block.
Our staff is just awesome! Responsible, very friendly and always there to help!
One of our forte's is Minigames! We have a vast array of minigames available to everyone! Even a dedicated server just for minigames.
The server runs on something Legendary! 6GB RAM, Quad Core, Intel Xeon 1245v2 @ 3.4Ghz
We have a great community!
DDoS protection of up to 20GBPS!
We even have a wiki of all the info you want to know about us!
Skyblock
Heroes
Hunger Games
Arenas
TF2
What are you waiting for? Join now! MC.LEGENDARY-REALMS.ORG
Server website: Legendary-Realms.org (Server Opens November 10)
Server Features may vary and some may have not been implemented yet.
There are no reviews for this server yet, you can be the first!