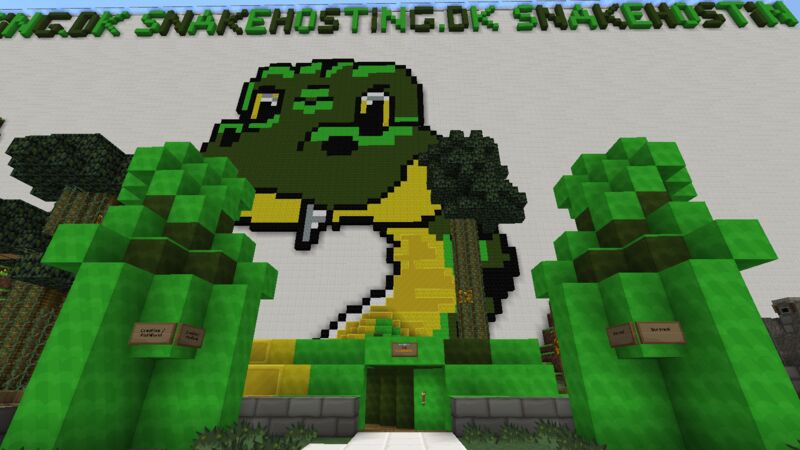 Velkommen til SnakeHosting.dk! Vi tilbyder dig Survival, MiniGames, Creative og meget meget mere!!!
Vores aktive staff medlemmer tilbyder dig hjælp og sjov og ballede!!!
Lidt info om de forskellige worlds
Creative: Vi køre Plot World! Hvor du kan skrive /plotme auto og så for du din grund! Her du kan bygge så meget du nu vil på! Du kan også invitere dine venner til grunden! Og hvis du ovenikøbet bygger noget mega fedt! kan det være du få Member+ som har mange gode fordele!
Survival: Dette er en klassisk verden hvor du kan bygge og hygge dig mig vennerne! Du er oven i købet sikret mod grief! Da det IKKE er tilladt i dette world!
MiniGames: Her har vi PaintBall, SurvivalGames, PvpArena, Bomberman og meget meget mere! Hvor dig og dine venner, kan få sin livs udfordring! Måske kan i besejr Herobrine som gemmer sig der inde?? Eller hvad du nu ønsker! Det er 1. klasses udfordring og hygge for alle i alle aldrer!
Fik vi sagt at serveren bliver kørt af snakehosting.dk? Som er et godt, nemt og billigt hosting firma? Men skynd jer at tjekke serveren og siden ud ;)
Håber vi mødes på SnakeHosting.dk!!!
There are no reviews for this server yet, you can be the first!