Back to List
![200 SLOTS] !! Mushroomcraft Survival !! Hunger G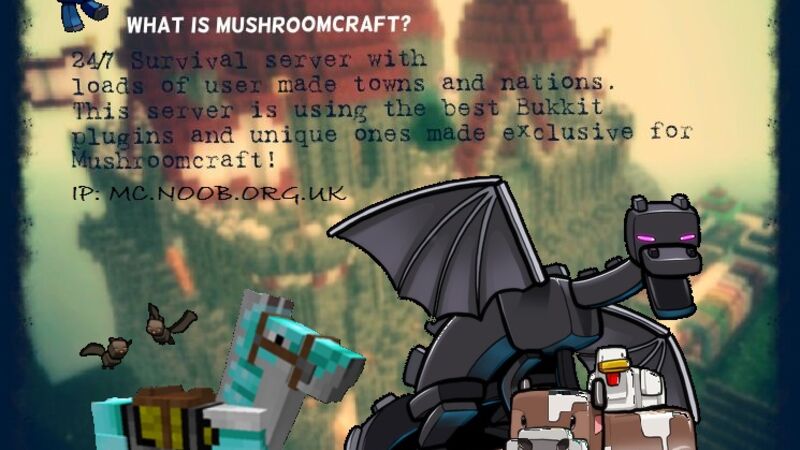 SERVER IP: mc.noob.org.uk
Hello there!
Mushroomcraft is a 24/7 survival multiplayer server looking for friendly players.
We have a 200 slot server with many of the best plugins, including our own.
The server is online 24/7 and is ran on it's own dedicated server with a 1000mbits/s connection for as little lag as possible-
Some server features:
Hunger Games

Faction World (in a city generated map!)

3 Custom worlds. One is a resource frozen world. Resets every 30 days by an Ice-age causing all minerals to respawn.

Towns/Nations (Mayors invite others to towns, can apply for your own town on our forum noob.org.uk).

Jobs (a way to earn money by either digging ,mining ,farming ,hunting or even make your own jobs)

Magic

Skyrim Shouts

Assassins

Police

Drugs (Sugar is cocaine, hold shift and right click to take).

Drug producers (Drug producers make drugs. This is an exclusive plugin)

Money Printers (Prints money over time. This is an exclusive plugin)

Advanced PvP [Decapitate other players' heads for trophies, blood effects,
[Sheath your weapon on your back]
[Leaderboards in all arenas and normal pvp/pve]
[Random/custom armour and weapons]
[Health Bar]

Jails.

Server-wide events [Hunger Games, horse races, drop parties]

Zombie Survival

Boss battles, raids and dungeons!

Money system.

Chest, block and command logging including a rollback system. (Admins/Mods only).

World Guard (A tool used to prevent any grief in an area).

Shops (You can create your very own shop)

Xray and other cheat detectors.
There are many other plugins as you will see and many many more to come, just request some and we'll take a look.
Forum
We now also have a forum, if you like the server why not join the forum at http://www.noob.org.uk.
We hope you enjoy the server, leave a comment for a request or feedback or even if you're just generally interested in joining!
There are no reviews for this server yet, you can be the first!